What is Permaculture & Whole Systems Design?
Permaculture is an ethically based whole-systems design approach that uses concepts, principles, and methods derived from ecosystems, indigenous peoples, and other time-tested systems to create human settlements and institutions. It's also been called "saving the planet while throwing a better party." 
Our course includes the internationally recognized 72-hour curriculum, augmented by an additional 38-hours of hands on practice and field trips. Plus, folks have the option to camp on site each weekend, and build community around the fire!
Upon successful completion of this course, graduates will be able to:
Assess the sustainability of current design systems and practices;

Define permaculture ethics and the principles of sustainability;

Employ natural patterns as a design tool in a wide variety of contexts;

Understand basic soil ecology and implement composting methods;

Design simple water harvesting systems, from home to broadacre scale;

Define and design "guilds" or constructed plant communities;

Understand local food issues and the importance of localization;

Translate ecological principles to a variety of social, economic, and educational settings;

Employ best practices for starting and sustaining intentional communities and Ecovillages;

Apply permaculture methods to educational curriculum design and the creation of school garden programs.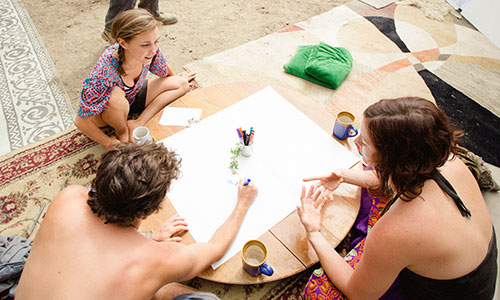 Dates & Topics
April 8 & 9 – Introduction to Permaculture Design and Nature Awareness

May 6 & 7 – Restoring Watersheds & Soils

June 10 & 11 – Social Permaculture (formerly June 3-4)

July 8 & 9 – Home Scale Permaculture: Creating Natural Homes and Edible Landscapes

August 5 & 6 – Broad Scale Permaculture: Integrated Animal Husbandry and Forest Management

September 9 & 10 – Regenerative Community Development

September 16 – Design Presentations & Party!

---

The dates for our current program in 2016-17 are October 8-9, November 5-6, December 3-4, January 14-15, February 4-5, March 4-5 and March 11.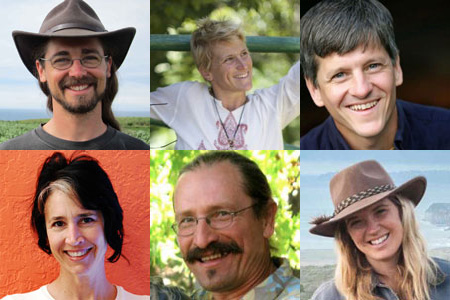 Guides
David Shaw – Sustainable Agriculture & Social Permaculture

Jon Young – Ecology, Tracking, and Deep Nature Connection

John Valenzuela – Agroforestry & Tropical Permaculture

And More!
$1,250 – Full 6-Month Tuition

$1,050 – Early-Bird Discount – Register Before January 1, 2017 and Save $200

$300 – One Weekend Only

$950 – Partner / Spouse Discount – When one partner registers for the full course, the second gets a discount

$950 – Teacher Discount – For K-12, College and University Teachers

$750 – Child Discount – When an adult registers for the full course, their child gets a discount

Please Inquire about Payment Plans, Low-income and Youth POC Discounts
Registration includes access to all course sessions, online course reader and on-site camping. While a kitchen is provided, we do not provide food. Note: There is a PayPal Handing Fee included in the prices to the right.
Note: You do not need a PayPal account to register. Clicking on pay now will take you to the PayPal site, and then once you make your payment please fill out the additional form to complete registration.
Refund policy: Cancellations up to two weeks before the course begins will be refunded, excluding a $150 processing fee. No refunds are given after that date.
Frequently Asked Questions
Are there readings, videos, and other materials to supplement our time together?
Yes. We provide a very comprehensive online course reader for free, and recommend you purchase the 2nd Edition of Earth User's Guide to Permaculture by Rosemary Morrow.
What if I miss some classes? Can I make them up?
Yes. Once you enroll in our Permaculture course you are a lifetime member. You can make up material you missed during the next session, or even just come join us again for a refresher. Additionally, we often arrange with other California Permaculture teachers so that our students can make up courses with them, and vice versa. Isn't the permaculture community great?